Robert C.
Greulich
Managing Member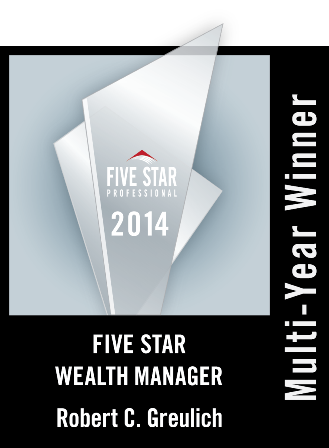 Bob has been a financial professonal since 1980, he has been dedicated to helping both businesses and individuals build their financial futures for over 34 years. He has an affinity towards retirement planning and has focused his practice on creating helpful strategies for small to mid-sized businesses. His passion for retirement planning has made him committed to making sure he can be a resource for the life of your business.
For Bob, his education and knowledge in the ever-changing industry of retirement planning is always a priority. He attends industry training, certification programs and holds multiple FINRA securities registrations: Series 6, 63, 65, 62, 22, 7 and 24. Bob has been named qualifying life membership with MDRT as well as, "Top of the Table" status within the Million Dollar Round Table, recognizing him for his performance and counting him as one of the top retirement planners in the industry. Bob has been nominated and recognized in the Chicago Magazine for three consecutive years as a Five Star Professional, which defines and promotes professional excellence.  As managing member of The Pinnacle Planning Group he holds an active membership within the Retirement Plan Advisory Group (RPAG), which brings him access to several ERISA Attorneys and Certified Financial Analysts, (CFA). RPAG also provides Bob and his team the tools to monitor benchmarking plan costs and plan performance, as well as, monitoring investment fund performance in order to meet current Department of Labor (DOL) requirements of retirement planning.
Bob lives in Burr Ridge, Illinois with his wife Kathy. Bob and Kathy were married in September of 1981. They have two kids, Stephanie and Christopher, a son in-law, Eric and two beautiful granddaughters, MacKenzie and Jordyn. Another integral part of their family is their 3 "Grand dogs"; Wrigley, a high maintenance yet entertaining Vizsla, Nopey, a loveable Chocolate Lab, both of which reside with he and Kathy, and Buster, an adorable American Bulldog.  When not working Bob enjoys several hobbies include cycling, golfing, skiing, and working in his yard.
Bob is a Registered Representative of HTK.
**The overall evaluation score of a wealth manager reflects an average of all respondents and may not be representative of any one client's evaluation.  The award is not indicative of the wealth manager's future performance.  For more information on the FIVE STAR Award and the research/selection methodology, go to: Five Star Professional married in September of 1981. They have two kids, Stephanie and Christopher, a son in-law, Eric and a beautiful granddaughter, MacKenzie.